About
Welcome to Circa Vintage.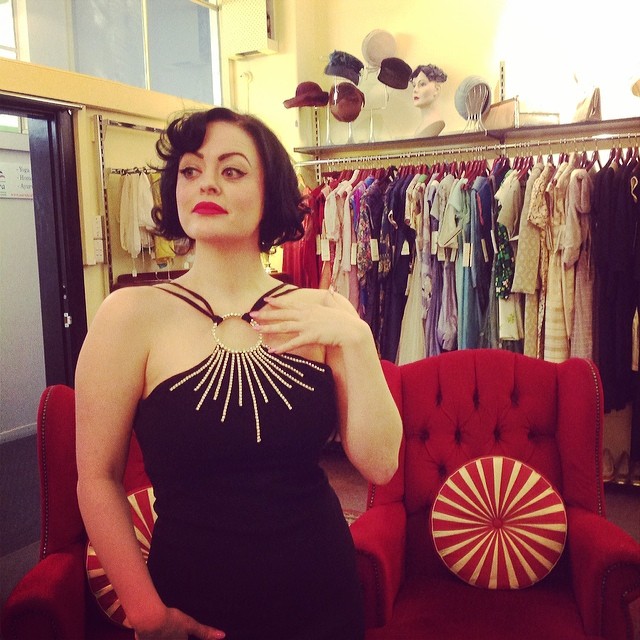 Model Becky Lou in '60s diamante evening gown.
Circa Vintage is an online vintage clothing shop owned and run by fashion historian and award-winning writer Nicole Jenkins, based in Melbourne, Australia. Note that there is no longer a physical shop for browsing as our entire range is available online.
Since 2004, Circa has presented good quality original garments dating from the Victorian era to modern times, specialising in Australian fashion labels.
Nicole has been buying and selling vintage clothing since 1980 and at one time managed Sydney vintage shop "Albert and Gladys". I've also worked in costume hire, film, television, theatre and fashion here in Australia and in the UK after studying costume design and construction at Perth Technical College and the WA Academy of Performing Arts, but her true love is the history of fashion.
Her first book,  "Love Vintage" was published through Carters in 2009 and is now sold out.
Praise for "Love Vintage":
"This book is all kinds of wonderful - there's no way I'm ever going to part with my copy!"
zeldainsydney on instagram.
"I love your book. It's so beautiful. Xx"
magdalenesmuse on instagram.
Her latest book is "Style is Eternal" and is about making the most of your wardrobe without spending a fortune by dressing to please yourself and wear what suits you. It uses historical concepts that our grandmothers knew well, and we've forgotten in these days of disposable fashion. It was released through Melbourne University Publishing in late 2014 and is available through Circa and good bookshops.
Nicole is also available by arrangement for talks, workshops, appraisals and other events. Vintage and antique garments from her private collection and Circa are available for exhibitions, fashion parades and hire by professional groups. Please get in touch via email.
All original images and text (unless otherwise indicated) remain the property of Circa Vintage. Please request permission before reproducing. Thank you.