About
Welcome to Circa Vintage.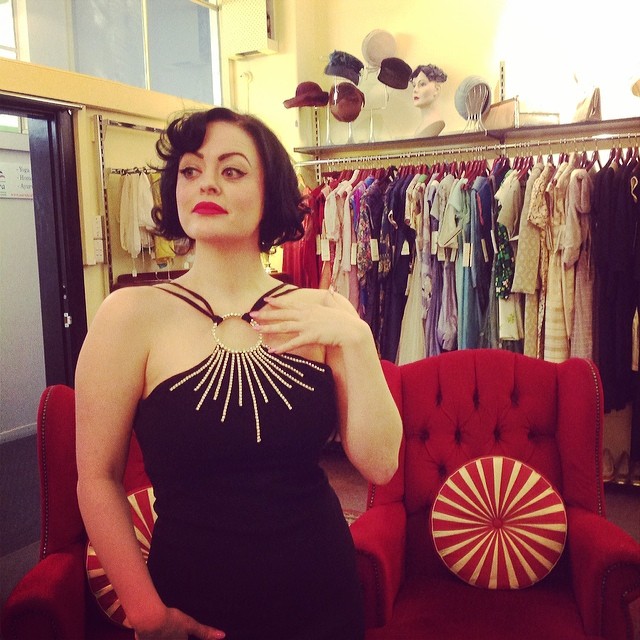 Becky Lou in '60s diamante evening gown.
Circa Vintage began as a wardrobe that became an obsession: a personal collection of Australian vintage and antique fashion that in 2004 became a retail shop in Gertrude St Fitzroy. Five years later an online emporium followed: the largest in Australia. In 2012 a pop up shop opened at Southland shopping centre and an upstairs salon in Melbourne's art deco Mitchell House.
In more recent times, Circa has returned to being a private collection with almost 200 years of Australian fashion available for students and cultural institutions to borrow for research and exhibitions. The online shop deaccessions surplus garments.
Please note that there is no longer a physical location for visits. Enquiries should be addressed to collector Nicole Jenkins. Thank you.
----------
More on Nicole:
Nicole has been buying and selling vintage clothing since 1980 and at one time managed Sydney vintage shop "Albert and Gladys". she's also worked in costume hire, film, television, theatre and fashion here in Australia and in the UK after studying costume design and construction at Perth Technical College and the WA Academy of Performing Arts, but her true love is the history of fashion.
She is the award-winning author of books 'Love Vintage' (Carter's 2009) and 'Style is Eternal'(MUP 2014) and has written articles for the Guardian newspaper online and Vintage Made magazine. Nicole is also available for talks and events.
Nicole is represented by Curtis Brown literary agents and Booked Out speakers agents and is currently studying cultural heritage and museum studies at Deakin University.
Praise for "Love Vintage":
"This book is all kinds of wonderful - there's no way I'm ever going to part with my copy!"
zeldainsydney on instagram.
"I love your book. It's so beautiful. Xx"
magdalenesmuse on instagram.
All original images and text (unless otherwise indicated) remain the property of Circa Vintage. Please request permission before reproducing. Thank you.